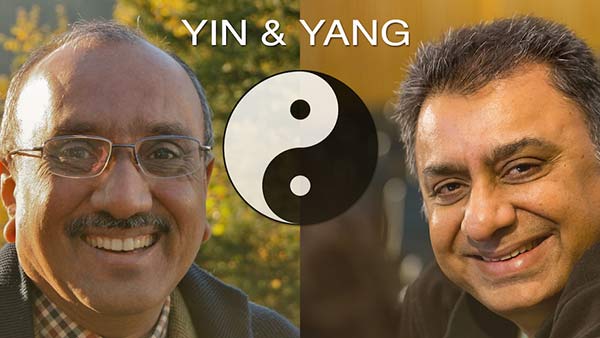 JAYESH SHAH & MAHESH GANDHI
CANCELLED!
– COMPLEMENTARY METHODS –

18th – 21th June 2020 in Wessling, close to Munich
To sign up, please contact Almasto Burmeister
About this seminar
The two world-renowned masters of 'Soul Homeopathy', Mahesh Gandhi and Jayesh Shah once again come together to share the gems of their homeopathic knowledge and experience. They will each convey two equally effective yet diametrically opposed methods.
Dr. Jayesh often calls his method 'into the life force' approach. This highly refined method of 'case allowing' is based on simple understanding that the life force has an inherent tendency to resonate with the similar. He will demonstrate the value and the phenomenon of polarities in case taking and case understanding. He will show the use of meditation techniques with clear guide lines on its principles and use in practice. Dr. Jayesh will teach from cases including cases of deep physical pathology. The rubrics, key notes and the material medica will also be discussed at length.
Mahesh Gandhi has observed in his many years of experience with psychiatric cases that fundamental, constantly recurring themes in patients can be correlated to certain developmental stages of the patient. In cooperation with the Israeli biologist Michal Yakir, he has been able to discover and in numerous cases confirm that these stages correspond to similar stages in the evolution of plants. Thus both approaches offer helpful supplementary knowledge to Sankaran's sensation method, which does reach its limits in many cases.In this joint seminar these approaches are united for the first time: The method of plant evolution based on exact observation is brought together with the meditative approach based on trust in the process of the vital force.
Located on the lakefront of the "Wesslinger See", the venue offers a superb surrounding for recreation.
Looking forward to seeing you there,
Mike Keszler and Almasto Burmeister
Times
Thursday 10 am – 6.30 pm
Friday 9.30 am – 6 pm
Saturday 9.30 am – 6 pm
Sunday 9.30 am –14 pm
Seminar fees 450 €
Before 28th of March 420 €

Account
After your registration you will receive the bank details
Conditions of participation and cancellation
Your registration is confirmed only after the receipt of payment. Since there are limited seats please send your payment ONLY after confirmation from us.
For cancellation up to 4 weeks before the seminar a handling charge of 25 € will be charged to the participant. If the cancellation occurs after that there will be no refunds, unless a substitute attendee is provided.
The organizer reserves himself the right for special reasons to call off the seminar. All information about the patients is strictly confidential by the oath of secrecy.
Accommodations
Unterkünfte in Wessling
Hotel Seehof
Ferienwohnung am See
Hotel zur Post